Sydney is one of the biggest cities in the southern hemisphere. It is located in the east coast of Australia. By any means, from buildings to culture, from parks to restaurants, it is a typical city of the western country. In fact, I found it is very much like San Francisco Bay Area. Both are around a bay, both are multicultural and both have an eminent construction that defines the city. While San Francisco Bay Area is known for its hi-tech fast-pace style; Sydney is more relaxing with a British touch.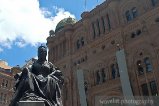 We stayed in Sydney for 4 full days and visited almost all attractions. Except, we left the city on December 31st, right before the world-famous NYE fireworks. It is indeed a pity, but at 10AM when we left the hotel, people have already lined up for a mile for the event. Hopefully next time, we would be more financially prepared, so we could reserve a seat at the Opera House.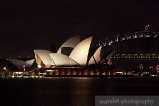 The
Opera House
is an iconic construction to Sydney. Arguably, without the Opera House, Sydney would not achieve its status in the world as of now. Although it was built 40 years ago, the design is still modern and bold by today's standard. At night, when you leave the clamorous
Circular Quay
behind and watch the Opera House across Farm Cove, it is such a peaceful view. I researched the Internet about the resignation of its original architect –
Jorn Utzon
. How unfortunate it is that he could not complete his own masterpiece because of the political reasons. Otherwise, what we see today would be even more grand.
Influenced by the British tradition, tea house and cafe are all over the city. There are also many choices of Asian restaurants. But, the food is generally mediocre and expensive. For the first time, we felt the pain of dollar depreciation directly.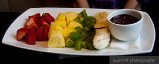 I calculate that the average price is more or less reasonable before the dollar depreciation, but US dollar has dropped 50% against Australian dollar in the past year. The restaurant we like the most is called Guylian, a Belgian Chocolates cafe, located in Rocks and Circular Quay. Its chocolate dipping is my wife's favorite; to me, the blue cheese salad is the best.
More pictures will be posted.