After consulting the local tourist office, we changed our plan for the day – instead of going back to Miette Hot Springs, we decided to spend our last couple of hours in Edmonton, the capital city of Alberta. It has the largest shopping mall of North America.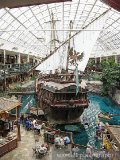 Again, we were driving on the road in the middle of miles of forest and often with no single car in sight. It took us about 3 hours to get Edmonton.
West Edmonton Mall (WEM)
accommodates more than 800 stores and an indoor amusement park with several rides, an indoor water park with wave pool,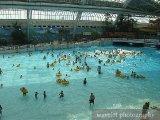 an indoor skating field – ice palace and an indoor sea life lake with 4 sea lions. It even has a Chinese grocery store inside the building. It is the largest mall in North America, and
ranked #6 in the world
. All the first 5 malls are in Asia. WEM doesn't have many fancy stores. Most shops are middle end.
Leaving the mall, we had a quick driving tour around the city, and then drove to the airport. This is one of the best wild nature trips we have so far. We are deeply touched by the force and beauty of Canadian Rockies. What make them stand out is not only because of the mountains, but also those innumerable glacier lakes. It is them that make the Canadian Rockies powerful, yet graceful and vital at the same time.