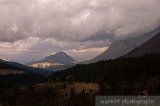 Today was the only day in our trip to cover Jasper National Park. Although we already planned to skip some attractions, it would be still very tight. The first stop was
Columbia Icefield
. It is located on the boarder of Banff and Jasper National Park. Two major rivers, Saskatchewan River and Athabasca River, originate here and run through Banff and Jasper National Park respectively.
Athabasca Glacier
, fed by the icefield, is one of the most accessible Glacier in North America because
Brewster Snowcoach Tour
can take visitors onto the glacier. We are told that in order to avoid the peak hours, we'd better get to the Columbia Icefield visitor center before 10am. We got up at 7. By 8am, we had the breakfast and were on our way to Jasper.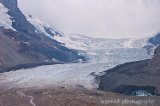 It started drizzling soon after we departed Banff town. After passing the Bow Lake, we were now driving on the road we hadn't visited these days. The mountain was getting grander and steeper. I stopped at a couple of places and tried to take pictures. However the cloudy sky made them really dull. It's 10:30 when we arrived the visitor center. The drizzling had became shower. With 6676 feet elevation, it felt like winter, so we had to put on all our clothes. We indeed avoided the crowd. We took on the bus within ten minutes. After another 10-minute drive, we were transfered to the Snowcoach station and got on to one of the Snowcoaches. Snowcoach is a giant 14-wheel truck.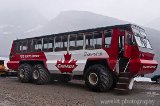 It is the only safe and comfortable vehicle that can transport passengers on the ice and the gravel deposited by the glacier. We had 20 minutes on the ice. In fact, most visitors spent less than 2 minutes. In the video played in the visitor center, people smile under the sunny sky and children play on the snow – not now, it's just too cold. The shower became sleet on the glacier and you really couldn't walk, you could slip on every step. After about 5 minutes, the only visitors who hadn't gone back into the truck were me and another guy holding a SLR too. We noticed a group of people were making commercial photo shots for models. I just wished they were not working on bikini projects.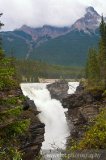 When we returned to the visitor center, it's already after 12pm. The tour took more time than we thought. Because we have booked 4PM boat tour at Maligne Lake, there were only less than 3 hours left for us to get to Jasper town. Although Jasper's attractions are not as famous as Lake Louis or Peyto Lake, the mountain range is more majestic. The roadside view are more beautiful then Banff but I don't have enough skills to capture them because of the rain. So, we just kept on driving until the
Athabasca Fall
. From the parking lots, we could already hear the thundering water. The wide and peaceful river is forced into a narrow canyon and the result is tremendous. The fall is short but the power is intimidating.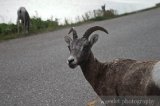 We had to skip other attractions on the Icefields Parkway. It's almost 3pm when we arrived Jasper. We just had a quick lunch at KFC but had no time to shop at Jasper. Compared with Banff town, Jasper is just a village anyway. I learned the snow could reach 3-meter thick here. That would be quite a scene. When we book the Maligne Lake tour, we were warned that "Travel time between Jasper and Maligne Lake is approximately 50 minutes. As the Maligne Lake road is ideal for wildlife sighting, we recommned that you allow additional time for travelling". We didn't have additional time but less than an hour. The Maligne Lake road is narrow, I managed to pass several slower cars to buy more time. But once in a while, you could see some cars stopped in the middle of the road, that meant someone saw some wild animals. We saw Elks, a black bear and mountain goats. Although we were in hurry, but how could you not to stop for those lovely animals? Especially the mountain goats, they literally chased my wife around the car for food. When we reached Maligne Lake, it's only a couple minutes to 4PM. People are already lined up to get on to the boat. We barely made it.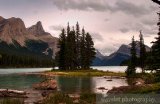 The view is spectacular. Inside the boat, it's packed; but at any time 6 to 8 people are allowed to stand outside at the back deck. Standing on the deck was like reviewing the military parade, the mountains, smooth or sharp, were soldiers marching on the both sides. The destination of the boat tour is a tiny island, called Spirit Island. Although it is small and technically not even an island, it is often considered to represent the magnificent Canadian Rockies in a spiritual way. That's where its name came from. Countless pictures have captured the island from different angels, but I haven't seen a good one with the cloudy sky, so I'd rather think it's chance for me to give it a shot :-). We had only 15 minutes, but when you are prepared, it really need only 10 seconds to take a shot.
We lived Hinton tonight. Hinton is a small road side town for visitors to spend a night. We had a dinner large enough to make us feel guilty. It's a long day!