2009.8.7Our flight landed in Calgary at noon local time. Viewed from above, Calgary is a well-planed city. The streets are like chess-board with the Bow River running through the city. At the center of every housing community, there is either a lake or a park. It must be a nice place to relax.
It turns out that weather forecast is just a fuzzy science. There was no rain or shower, only a little cloudy. We soon started our 120km drive to Banff. It is a totally different experience driving on Canada's country road. There was no mountain yet, only a few cars, just endless forests and wide-open view. Like my wife said, "it is a scenic drive already".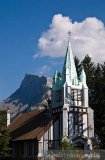 When we arrived in Banff at 4PM, I realized where people had been. Unlike most National Parks in States, where only offer basic food and tenement, Banff is a small city. Its central streets are packed with restaurants and shops. Even Gap and Louis Vuitton have stores here. So many tourists strolled in the Banff Ave. They even made the central blocks quite crowed. This actually worried me because this made me feel that the park is over-developed and might have lost its natural beauty.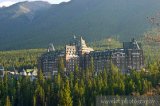 We spent two hours doing window-shopping and identified a couple of restaurant candidates; then, we drove to Surprise Corner that overlooks
Fairmont Banff Springs Hotel
across the Bow River; we went to the other side of the river where there is a park so we could get closer to the Bow Falls. The fall is short but wild. The Bow River makes a turn to the east here. It is a relaxing place to sit on the bench, listen to the roaring river and smell the breeze.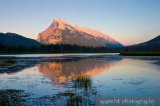 Today's photography plan was to take pictures of Mount Rundle in sunset. Mount Rundle has a unique shape. The view from across Vermilion Lakes is an iconic scene of Banff National Park. A runner helped us, she was extremely nice and helpful, find the turn we missed so we could catch the show on time. Some photographers are already there. The color was not like exploding today but still not bad.
Sun goes down at 9PM in Banff, and restaurants are normally open until 11PM. Tomorrow morning, I'm gonna get up very early to visit one of the most photographed places of the park.