We are applying Schengen visa through Greek Consulate in San Francisco for our next international trip. We were referred to a website which stated the applicant's passport must be issued within 10 years. My passport got extended twice and is 14-year-old now. My wife made a couple of calls to Greek Consulate and tried to ask if it's possible to apply the visa with my current passport. The conversations over the phone, I can say, were not all pleasant. The officer insisted that the passport should be renewed and any further questions were considered as wasting his time. Because there is not enough time to renew the passport before the trip and the official Greek Embassy website doesn't show this requirement, we decided to give it a try anyway. Besides all the required documents, we also prepared what to say if we would be questioned.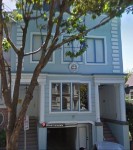 Greek Consulate in San Francisco is surrounded by all the Victorian style houses, many of them have beautiful gardens and trees are often trimmed into delicate shapes. In fact, the consulate is a small house itself. If it has not painted with the light blue color and had a Greek flag hanging on the building, it is just a nice small house in the neighborhood. The inside is decorated as a family room as well. We were welcomed by an officer. He checked our documents and passports, without any question he told us the visa would be ready the next working day.
Surprised by how easy it was, we brought up the question ourselves. The officer started laughing – obviously, he is the same officer who talked with my wife on the phone. He told us what he had insisted is true but the restriction is not that strict now and the boarder guards are normally "terribly polite". After a couple of minutes, he even gave us some travel tips. We walked out of the building and he lighted up a cigarette. The weather was perfect and neighborhood was elegant. We started exchanging political jokes and found out our two great civilizations have a lot in common. We left the consulate contented.